The chip combines two functionalities on one single die, the EPC technology
used for long range application purposes and the NFC used to exchange data in a proximity range.
Both protocols may share a common unique ID
Targeted applications and market segments include retail, product authentication or smart NFC posters.
A tag or label based on the tag provides multiple benefits and usages via the EPC communication interface
like stock inventory, product returns, and data privacy.
The same tag or label also enables new marketing services like product information or loyalty programs using an NFC
enabled smartphone.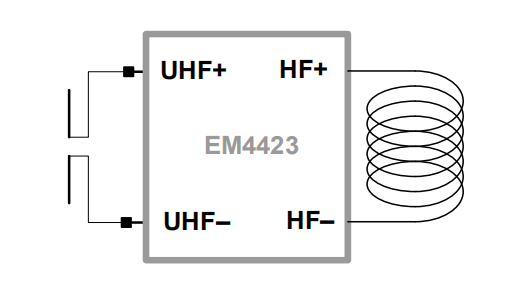 The chip is a dual frequency device supporting ISO/IEC14443 Type A, NFC ForumTM Type 2 specifications,
ISO/IEC18000-63 and EPC Gen2 V2. Additional features have been added to provide chip privacy.
For the NFC interface, the smart counter increments its value each time the NFC message has been read by the end-user.
Each chip is manufactured with a 96-bit unalterable unique identifier (UID) to ensure full traceability. The same UID
number is used by both RF protocols. During an ISO/IEC14443 anti-collision procedure, the 7 bytes which are
part of the 96-bit are sent back by the transponder IC.
The tag offers two non-volatile memories which are accessible by both RF air interfaces. The two memories are
segmented to implement multiple applications.
EM4423 supports the optional BlockWrite command, enabling the fast encoding of a 96-bit EPC. em|echo also
supports the optional Untraceable command to hide portions of memory of the tag or label.
FEATURES
Dual Frequency 1-step inlay manufacturing
Shared unique ID Shared memory
Minimum 100k write cycles endurance
Minimum 10 years data retention
Sawn wafers, 6-mil thickness, gold bumps